US President Donald Trump arrived to a massive public reception after he landed in India's Gujarat state for his first official visit to the country.
Mr Trump was welcomed at the airport by PM Narendra Modi who enveloped him in a bear hug soon after he landed.
Mr Trump's visit will focus on deepening ties between the world's two largest democracies.
The two leaders are now en route to the Motera stadium, billed as the world's largest cricket venue.
The two leaders are expected to address more than 100,000 people at a joint rally there. The event is being compared to the "Howdy, Modi!" rally they held in Houston last year which was attended by 50,000 people.
Thousands of Indians have lined the roads along the 22km (13.6-mile) route to the stadium. Billboards are emblazoned with pictures of the men and carry slogans such as "two dynamic personalities, one momentous occasion".
What awaits Donald Trump in the packed, soon-to-be-completed Motera Cricket Stadium in Ahmedabad. Even in a busy election year, likely to be the biggest crowd he addresses in person
The road show also features performers from across the country, showcasing the arts from different Indian states.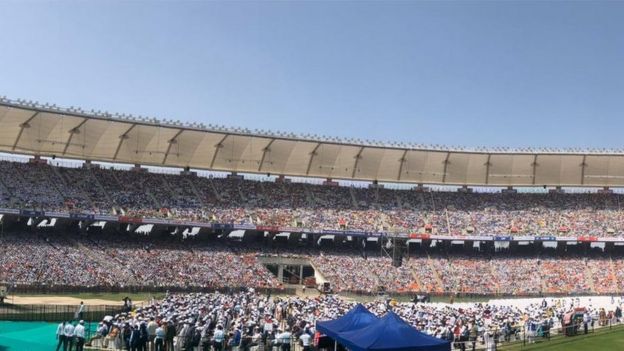 Mr Trump earlier made a quick stop at the Sabarmati Ashram, where Indian independence leader Mahatma Gandhi, who was born in Gujarat, lived for 13 years.
Mr Trump and First Lady Melania Trump tried their hand at the charka or spinning wheel, which is used to spin cloth. Gandhi popularised the act as a form of protest against foreign-made cloth during India's independence movement.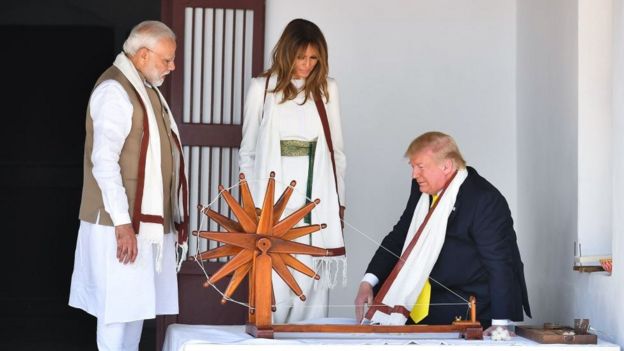 "To my great friend Prime Minister Modi, thank you for this wonderful visit," Mr Trump wrote in the ashram visitor's book.
Ahead of his visit, Mr Trump had said he was looking forward "to being with the people of India".
"We are going to have many millions and millions of people. It's a long trip. I get along very well with Prime Minister Modi. He is a friend of mine," he said.
"I hear it's going to be a big event… the biggest event they ever had in India."
But amid the fanfare, a much-talked about trade deal is unlikely to happen during the visit.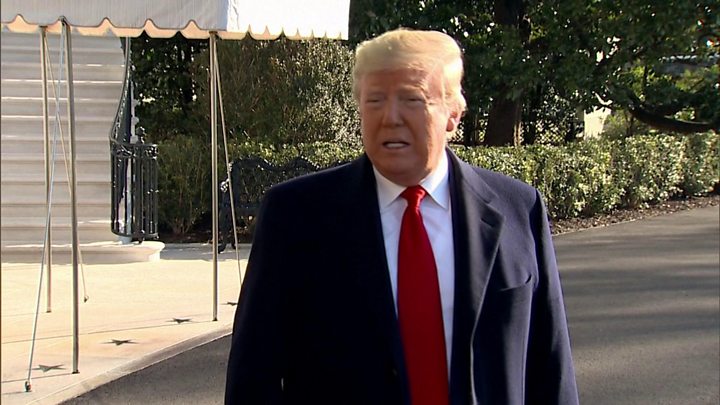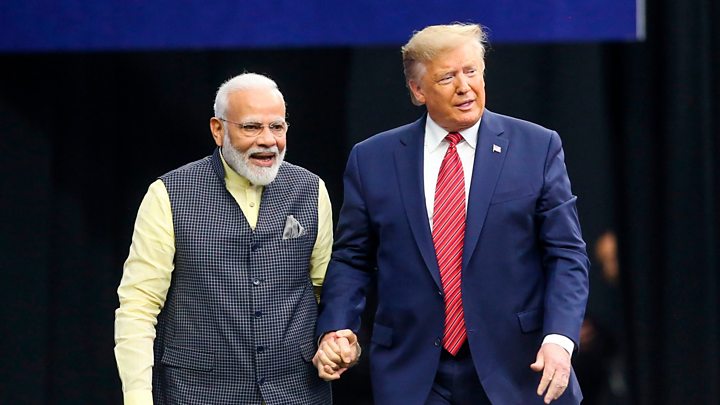 An official US report last year said India's tariff rates on other members of the World Trade Organization (WTO) remain "the highest of any major economy".
The two sides have also differed over price controls on medical equipment and India's new rules on data storage.
The trade deal was likely to resolve some of these issues. But just days before the visit, Mr Trump announced that he was "saving the big deal for later on".
Reports say negotiations continued between the two sides until last week, but they were not able to reach a consensus on issues like the restoration of the GSP for Indian goods, and India agreeing to open some of its key markets for US goods.
The two sides are also expected to sign a clutch of other agreements relating to intellectual property rights, trade and homeland security.
In a clear sign of ever closer defence relations, India is expected to sign two big deals with the US to acquire 30 American defence helicopters – MH-60R Seahawk and AH-64E Apache – worth more than $2.6bn.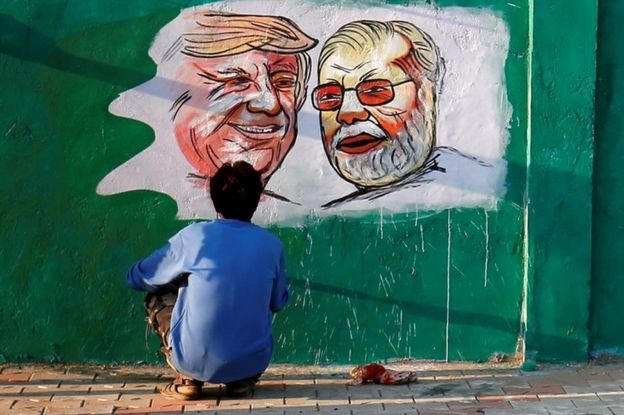 Also, the US energy firm Westinghouse is expected to sign a new agreement with state-run Nuclear Power Corporation of India for the supply of six nuclear reactors, according to Reuters news agency. The US has been discussing the sale of nuclear reactors to India since a 2008 landmark civil nuclear energy deal.